What Are Good Hair Thinning Shears?
Posted by Taichi Industries LLC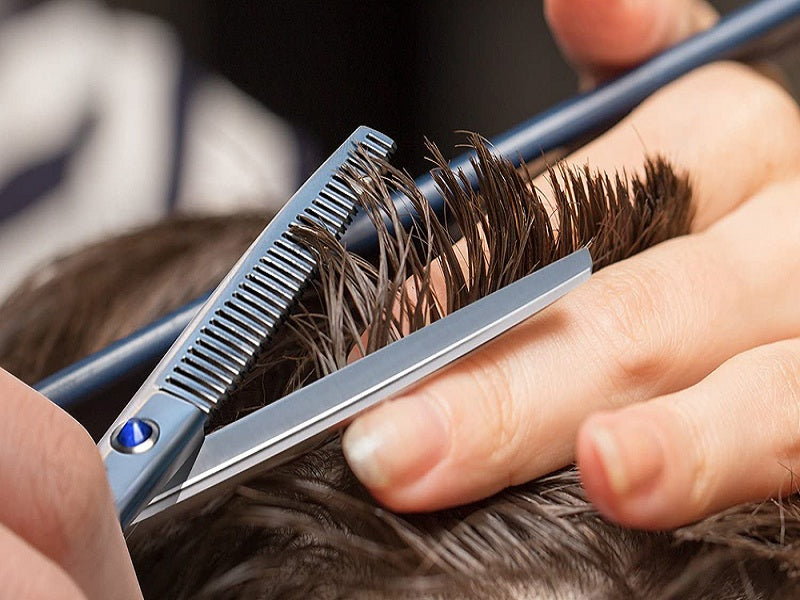 Thinning your hair is like a nightmare for everyone. Nobody can imagine losing their hair volume. So, most people think that cutting your hair is like losing your voluminous hair.
But, it is a wrong misconception among people. It is a strange thing to hear but, it is a reality that thinning your hair adds more volume to your hair. And the barbers keep on explaining this concept to their clients.
Some people who feel it or try to feel the effects of thinning understand these concepts completely. To make it possible, all the barbers use hair thinning shears.
When we say hair thinning shears, we expect something that is sharp and works smoothly simultaneously. Shears are not responsible for removing the chunks of hair but are more of a styling tool.
They are always smart in shape and have sharp blades to make it easy for the barber to style the hair strands of the clients. They can also be used at home for styling and cutting hair, as using them is not a hell of a task.
If you handle the thinning shears in your hand, you can easily cut and style your hair with it at home. The hair thinning shear has changed the game of haircuts and barbers by providing convenience even in tough haircuts.
Whenever someone looks at shears, they confuse them with the normal hair cutting hairs because they look like scissors. But, if go a little deep, we can see that shears are a bit different in appearance.
They are comparatively thin and have one straight edge blade. The other end of the shear is not empty but has some teeth to remove only a little hair during cuts. They are used on large sections of hair to get rid of the extra volume.
They do not affect the style of your hair but are responsible for thinning of hair. They are available for both the right and left handlers
In this article, we will discuss the best hair thinning shears available in the market
Equinox Professional Thinning Shears
It is stainless steel with a scalpel-like edge. It works amazingly, and the scalpel edges slice through the hair strands with ease. It is one of the most comfortable shears easy to grip and handle.
Adjustable screws are attached to them, and you can use them to tight them according to need. Moreover, lubricating oil is used on these shears to make sure that no hair will be pulled and damaged while cutting.
The oil allows smooth haircuts and does not cause the hair to cinch between the blades. Therefore, they are one of the best choices for barbers when it comes to thinning hair.
Utopia Care Professional Thinning Shears
They are one of the most long-lasting shears and used in salons for years. They are also known as salon-quality shears because of their ability to adjust themselves with the help of a tight and gold plated knob.
They are ultimate sharp shears with hollow ground blades and a removable rubber handle. They have greater control, and one will not regret using them any time.
They come with special spring leaf tension, and it brings comfort for the barber to handle the shear more appropriately and tightly while cutting hair from them.
Smithing Thinning Scissors Set
It is not a single thinning shear but a set of core tools that you can use to perform extraordinary haircuts. They can be used at home and in the salon setting as well.
The set of these thinning shears consists of a razor, comb, thinning shears, hairdressing scissors, and a cleaning cloth. The thinning shears are high-quality stainless steels that work magically on hair.
They are durable by nature and are almost seven inches in length. Its sharp and convex-edged blade can make comfortable and sharp cuts with no hair pulling and damage.
The hair thinning hears with this toolset has a special adjustable key that you can use to tighten or lose the shear according to your requirement.
They are not only smooth in usage but are also very smart in look. All the tools are finished in matte black to give a classic and royal look.
ULG professional hair thinning shears
These shears with harp razors are new in the market. They consist of a forged Japanese stainless steel with sharp edges to trim the hair. They are an excellent tool in a salon setting and are hand-honed to perfection.
They are used both for trimming and texturing at the same time. It consists of thirty teethes and a slightly short thumb handle.
The handle for fingers is bigger, and it allows the barbers to grasp them properly. Rubber is also present on the rings to protect your fingers from getting fatigued or injured. The rubber provides cushioning and also makes it look ultra-stylish at the same time.