Professional Hair Cutting Shears
Posted by Taichi Industries LLC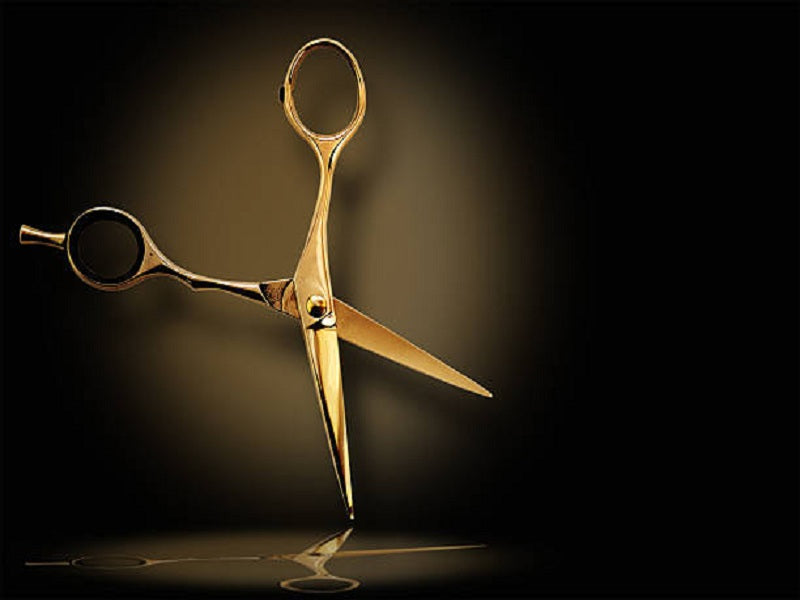 Good-quality hair cutting shears are crucial to our profession as hair stylists. The quality of your job, your safety, and your comfort can all be greatly affected by the tools you use. But it can be challenging to know what to consider when choosing new shears given the apparently endless options available. It ranges from materials and working of man to blade length and handle design. Finding the ideal shears for You is possible once you are aware of how each of these variables influences your performance in front of the chair.
How to Choose Professional Hair Cutting Shear?
It's crucial to spend money on quality when selecting a new set of professional hair cutting shears and that best suits your requirements. When selecting a shear, keep in mind that, based on how you sharpen them and how you take care of them, they can last longer. The correct shears can improve the caliber of your work, guard against repetitive stress injuries, and make hair cutting simpler and more enjoyable. Here are some pointers to assist you in finding your ideal match.
Knowing Your Goal
Consider the duties you need the tool to perform in the salon before you go shear shopping. Do you require a strong dry cutting shear? a mixer? a more compact tool for minute precision work? Or perhaps a multipurpose mid-size shear that can manage a variety of trimming methods and hair types? A clear goal in mind helps you stay focused and choose the best tool for the task.
Select Comfort
There is no "one size fits all" solution when it comes to selecting a professional shear. The most crucial step is to choose a shear that you can manage and feels comfortable in your hand. Your technique of cutting should decide the length of the blade, not the size of your hands.
Look for a Comfortable Handle.
Your hand, wrist, and arm may experience extreme strain from constantly opening and closing your shears. By promoting good ergonomics and healthy body postures, the comfortable handle design may help to lessen this strain.
Many less expensive shears have handles with opposite grips, making it difficult to work the blades without bending your wrist and pulling your thumb back. Over time, this may cause repeated wrist strain. Offset handles are preferable because the shorter thumb blade encourages you to maintain a more neutral wrist and hand posture. Select a crane handle for the utmost ease and security. Due to the contemporary ergonomic design, you can work with your elbow in a comfortable position.
Create a Kit
There should be a variety of accessible tools  in the salon because different shears are made to perform various tasks. Start with the fundamentals if you're a beginner or student stylist: a wet cutting shear, an extended dry cutting shear, an invisible blender, and a more powerful texturizing shear. Keep track of the techniques you use the most frequently as you develop your trade and make investments in more specialized tools. You'll notice a change in your output, creativity, and enthusiasm while seated!
Types of hair-cutting shears
The proper tools for each hair type and method are essential because haircutting is a craft. Make sure to use the following kinds of hair cutting scissors as you assemble your toolkit:
Texture shears, also known as blending or thinning shears
Weight and bulk are reduced by blending/thinning scissors without leaving sharp lines in the hair. You can work more quickly and produce results that appear more consistent and natural thanks to these shears. Consider purchasing two blending shears: a strong texturizing shear and a delicate, seamless blender for weight elimination that is more aggressive.
Turning Shears
It is well known that spending the entire day cutting hair can cause aches, pains, and repeated strain injuries. Swivel shears aid in avoiding these issues and prolonging the life of your job. You can control the blades with just your fingertips thanks to these ergonomic tools while keeping your wrist straight and your elbow at your side. They come in a range of blade lengths and wet cutting and dry cutting designs.
Cutlery that is wet
It makes sense to spend money on high-quality shears since you'll likely use your wet cutting scissors the most. Convex blades, top-notch components, and an ergonomic grip are things to look for. (ideally a crane handle or offset handle).On wet, damp, or dry hair, wet cutting shears can be used for a variety of methods.
Shear Grips & Handles
Your ergonomics and comfort throughout the day are significantly influenced by the grip style of your shears. The handle should ideally enable you to cut in a variety of poses while maintaining a straight wrist, a relaxed shoulder, and an open hand in a neutral position.
Shear handles and grips
The finger and thumb holes on opposing grip handles are situated immediately across from one another. As a result, you are compelled to work with your hand bent back, which can be painful and taxing. While cutting, you must also raise your elbow and slightly bend your wrist when using this handle technique.
Offset handles don't require you to draw your thumb back while cutting because the thumb blade is a little bit shorter. This results in a more ergonomic and pleasant cutting experience. However, working with offset handles might still require you to lift your arm.
The most ergonomic choice is a crane handle, which has an extreme offset thumb that opens up the hand and enables you to work with your arm in a secure, lowered position.
Final words
Cutting instruments of high quality are essential to our line of work as hair stylists. The hair cutting shears you use can have a big impact on how well your task turns out, how safe you are, and how comfortable you are.
But with so many options accessible, it can be difficult to know what to take into account when selecting new shears. It covers everything from tools and human labor to blade length and grip design. Once you are conscious of how each of these factors affects how you perform in front of the chair, you can find the perfect hair cutting shears for you.