Cutting Your Own Hairs With Best Barber Kits for Home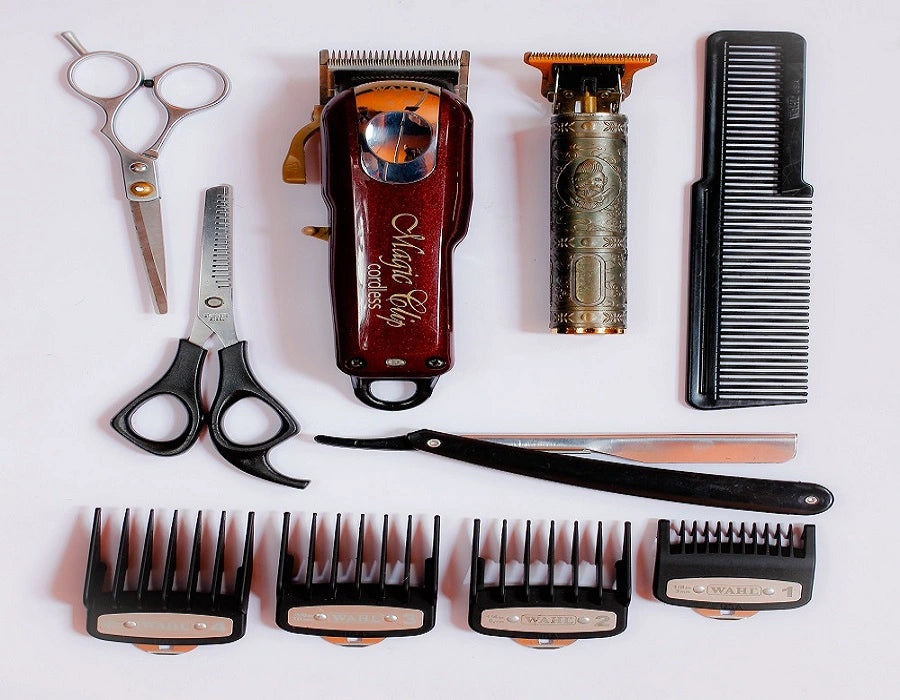 Do you have your hair cut with best barber kit for home? In the shorter, more cropped hairstyles of today, with tapers and fades. It's necessary to visit your favorite, reliable barber to keep your cut appearing clean and well-groomed.  You do not have to be without options if you are unable to visit a hair salon or barber. Numerous brands related to grooming been released. A few simple scissor sets and trimmers that allow you to give yourself a respectable haircut at yourself.
Haircutting at Home on Your Own
Many men have succeeded in trimming their own hair at home. Some claim that it is costly to visit the barber every two weeks. Some claim that the barber never quite cuts it to their satisfaction. Regardless of your motivation for attempting, you can be confident that the task is achievable. A few tools and, particularly, some guidance are required. With the instructional component, we can assist you. The tools will be discussed later.
The Key to Cut Your own Hair
The secret is to move and start small with a few cautious snips. You cannot put back the hair you have already shaved; but, you can always remove more. Keep in mind that your hair will appear even less once it dries if you cut it while it's still damp. So be very careful when cutting. Indeed, if you have wavy hair or curly fibers. Only trim your hair after it has dried so you can see how it will look in the end. You can trim your straight hair when it's still wet. To achieve the purest, finest lines possible, first wet it with a spray container.
Steps to Cut your own Hair
It can take as little as three minutes for a fast buzzcut and ten to fifteen minutes for a more involved style if you're not doing anything crazy with your hair. Here are the procedures:
Commence from the top by turning around
If you choose to do a shorter buzz, concentrate especially on your head. Be extra delicate there, as I sense that the skin is a little more sensitive than on other parts of our scalps.
Make a Side Movement
Keep in mind that the vicinity of the ear can be somewhat challenging. Many clipper sets come with ear tapers, which are attachments. Ensure that you use them in place of the typical brushes. Use extra caution when handling a naked blade and move.
Cut the Back
Again, go in an anti-grain manner from bottom to top. Typical, a tiny hand mirror will be necessary in this situation. Check the results of your trimming efforts with personal barber kit 2.0. Yes, you can determine your hair's length only by "feeling" it. You quite likely will miss some of it, though. Simple utilize the hand glass to prevent appearing foolish. To avoid having hair sections that are uneven.
Show some love to the Sideburns
This is important. If they don't seem sharp, they will distort your cut. You could think about pattern for the neckline. Create your own, please. Put your fingers down and examine the hand mirror. While using the trimmer is more than sufficient.
Assure the wellness of New Hairs
The small elements are the neckline and whiskers. The development of unhealthy hair might be a potential threat to any stylish haircut. Brutal locks with split ends and damage. The life of your haircut may be by these if you're an severe hair stylist.
Best Barber Tips
Think about depth and texture:
Be cautious if your hair is wavy, brief dry, or very uneven. These factors may make mistakes simpler to see.
Do not use straight lines.
It may have appeared fierce. However, you don't want to chop off a large, horizontal section of your hair. Grasp your scissors and cut the entire length of your hair. Instead of cutting through it, cut a small portion at a time. In case you're working on your smacks this is crucial. There are situations when length must be using horizontal stripes.
Seek assistance:
It's not easy to cut your own hair in front of the mirror. Seek help from someone to assist you figure out when less is more or to cut.
Begin modest:
You can always take off, but you can never go back. After you've taken too much off. It could be beneficial to take a few hours off before reevaluating your situation.
Essential Barber Kit Tools
Neck bands
The client's flesh and the cape are by neck strips. They are essential components of any equipment for a beginning barber. You can show to your clients that you value cleanliness by using a neck strip. They will protect your consumers from skin illnesses and give you a polished appearance.
Cutter for Hair
When you need to rapid and clean shave off hair, use a wired or wireless shaver. It's either on your mustache, facial hair, or cranium.
Hair Scissors
It goes without saying that shaving and cutting hair is one of the fundamental abilities of a barber. It means that you must always have shears on standby.
A Cloth
A towel is for several tasks when providing barber services, such as wiping away extra shaving foam. It's off the skin, wiping away the moisture, trimming the hair off the neck, and so forth.
A hair brush
This applies whether you are shaving or styling facial hair, beards, or mustaches. A hair comb is necessary, regardless of your level of experience.
Silver Shavers
A close, tidy cut may be all a customer needs at times. A foil-like shaver can help in this situation. However, foil shavers finish the job much faster and produce more obvious effects.
Dusters or Sweeping Brushes
Finally, a cleaning brush or duster is an essential item for any barber. It removes hair that has fallen following the procedure.
Final Words
Making well-informed purchasing selections is crucial. On how to avoid losing money when purchasing a best barber kit for home equipment. Hopefully, you have a better idea of the equipment required for novice barbers. What purpose they will serve.