What is the Benefit of Dry-Cutting Hair?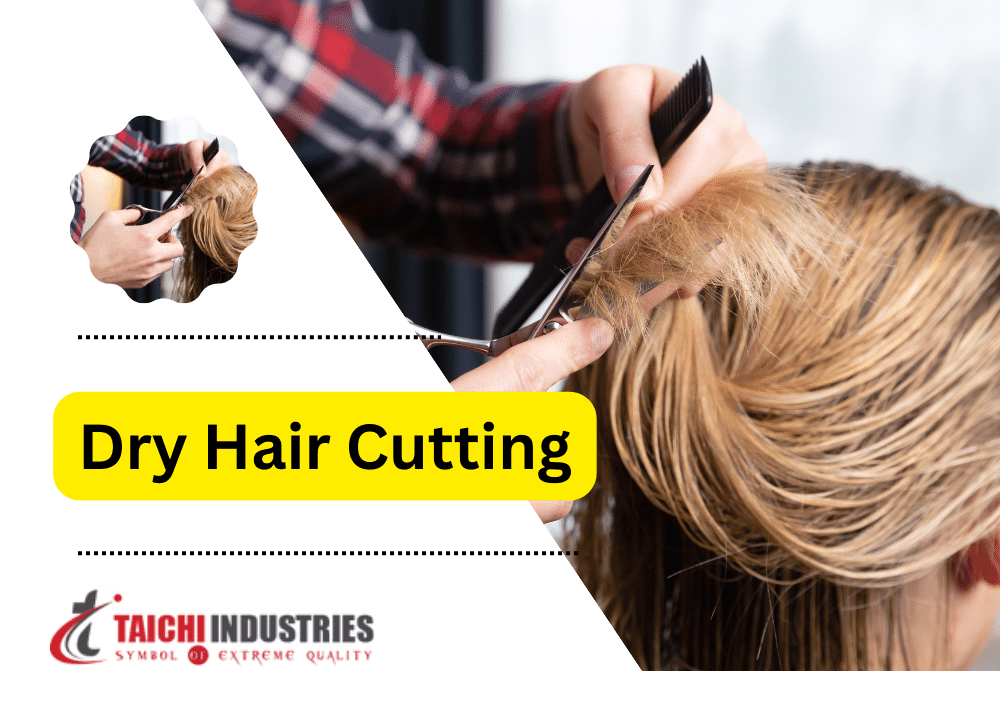 The cutting of dry hair consists of different steps to follow which involves best hair cutting scissors. The cutting of hair may be a sign that we have to start some adjustments in our lives. It might signal a fresh start or an improvement. Choosing to cut your hair is a sign to prepare to adapt. You believe that you have some routines or ideas that don't benefit you. The cutting of dry hair has both advantages and disadvantages. The stylist chooses different strategies for cutting hair.
A Drying Cut: What Is It?
Cutting hair while it's dry is simple. Water is not put into the hair. The haircut procedures are on dry hair. Your hairs own texture can flourish owing to the dry cutting. The particular trimming technique separates your hair into distinct strands. Every strand of hair gives more room and air. It enables the hair to grow.
You won't need to do anything to your locks before entering a hair salon. You might need to bring cleaned, dried-the-air hair when attending a hair salon that has expertise in dry cutting.
Dry cut vs Wet cut:
Moist cutting is when the hair is cut while it is damp. So, dry cutting is after your hair chops when it dries. Dry slicing works well for accuracy and durable lines. Correcting and perfecting shapes involves cutting the hair when it dries. Stylists prefer to dry-cut the hair to complete the cut with the best hair cutting scissors. Since that's when he assesses how the hair hangs and makes adjustments. You can get a precise idea of shape and length and see how the hair will fall. The professionals believe that trimming dry hair can be harmful. It is because any errors made are more likely to result in harm.
Cutting Hair and Self-expression:
The urge for artistic expression symbolizes the cutting of one's own hair. It represents autonomy and control. A person who trims their own hair shows the concepts of authority, power, and command. Taking charge of yourself and what other people believe shows by clipping your own hair. Making adjustments in your life is crucial. You do this by cutting your own hair. It is to start the process of fresh ventures.
Guidelines for Dry Cutting Hair:
There are different steps to follow before cutting your hair. Some of them are the following:
Review on the internet:
You read it right. Nowadays, Instagram, TikTok, Snap, and even Tumblr are the new Search. Enter the appropriate search terms and look for the hash tags that meet the requirements. You would type a dry haircut, a dry wavy cut, or a haircut for dry hair in this case. You look for anything that resembles a before-and-after photo or even a video. It will enable you to judge the stylist's abilities and give you with a glimpse of the procedure.
Get motivation:
You're more fortunate arriving at the salon having a vision of how you want your hair to look. If you only want a haircut. The hairdressers do training to interpret your vocal explanations. A picture could assist you in conveying your wants and needs more. Take photos of waves that are like your own to your stylist.
Management of your hair:
A good barber will inquire about the hair care routine. The stylist also offers recommendations as necessary. Remember that many hairdressers may attempt to provide their goods. It's easy to say no and pay attention to your instincts. If they provide examples, bring them to your house to give them a chance before making a sale.
Defend your goals:
It can be more difficult to detect split ends in curly hair. It is to ensure that if you experience any condition, as do the majority of curly girls, the split ends are present. For sealing the split ends, use an item like Gel. Additionally, you can use this to stop your hair from breaking. Apply the moisturizer every
day following dry hair.
Benefits of Dry Cutting Hair:
Effective hair drying and trimming have various advantages. It is for both the hairstylist and the customer.
Several benefits are as follows:
Exact length:
The damp hair stretches, and it may look lengthier than it is. Dry hair makes it possible for the stylist to determine and trim the required length. It produces a more consistent effect. It aids in increasing hair length. Hair growth requires regular dry clipping.
Greater accuracy:
By eliminating dry hair, stylists are able to observe a client's hair kind and requirements. The barbers also recognize the hair's typical texture, motion, and discrepancies. It enhances the precision of cutting and promotes hair growth.
Keeping Natural Structure:
The natural structure of dry hair remains. It makes it simpler to predict how the cut will seem. Without the impact of water, customers can know how their hair would function. It preserves the natural hair color. It stops the hair from thinning. It aids in protecting hair strength.
Lower hair loss:
After trimming, hair will somewhat contract as it dries. Cutting hair while it's drying can help explain this loss of volume. It guarantees that the outcome is what it has to be. The hair growth is increased by dry hair cutting. It tends to lessen hair loss.
Stacking and Texturing:
The best hair to texturize and add layers to is dry hair. The hairdresser can better observe how the hair drapes and alters layers. Dry cutting enables the stylist to change a haircut. It is to the customer's particular tastes and requirements. They might make changes as they go along to provide a customized
appearance.
Final Words:
As dry cutting offers benefits, there are instances where trimming wet hair suits. The stylist's expertise determines whether to cut hair damp or dry. The client's choices and the particular haircut are the other considerations. It is preferable to use the best hair cutting scissors. Yet, dry hairstyles have no real shortcomings.
They work on a variety of textures and types of hair. Including this technique in your styling can give you a comprehensive, considerate look. There is no reason not to try dry cutting if it results in distinctive shapes and hairstyles.