What Are The Key Elements Of The Best Personal Barber Kit?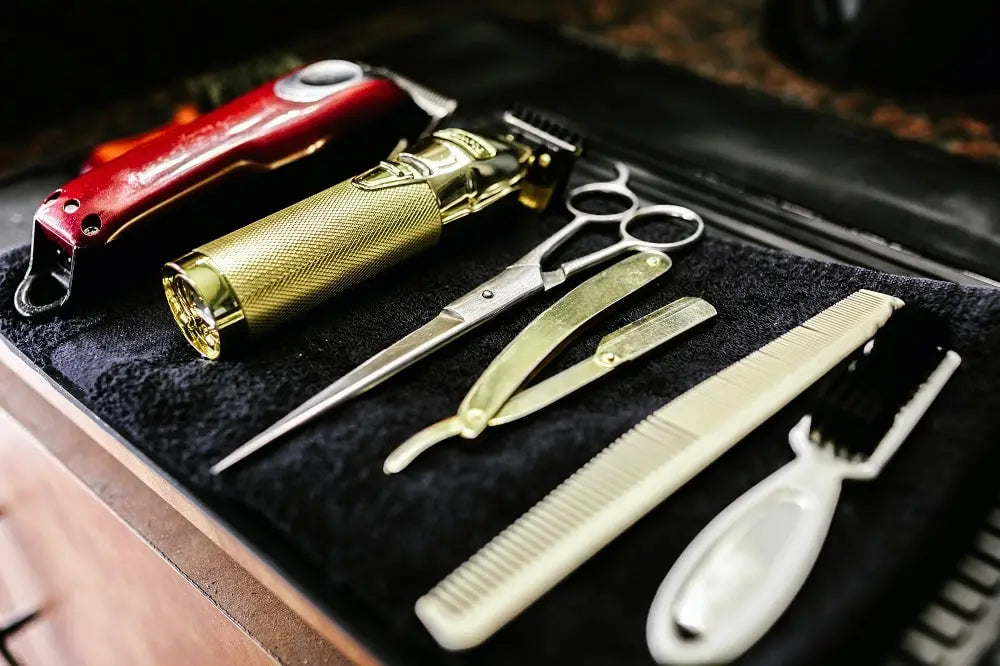 Are you looking for tools for your personal barber kit? Or are you finding it difficult to arrange the Best Personal Barber kit?
Well, in both cases we can help you with open arms. This blog aims to provide a proper sneak peek of the Barber Kit, or you can customize it for personal use.
Before we jump into the key elements or write the pillars of a Barber kit, it is essential to understand this term deeply.
What is the Best Personal Barber Kit
?
A Barber kit is a set of tools a barber uses in his or her daily life. It is a grooming kit that consists of a variety of tools like clippers, scissors, combs, brushes, and much more. In short, it is a collection of all the essential equipment the Barber needs to do a haircut or a dye. 
The Barber kit is like a treasure bag, that consists of all the grooming tools for flawless haircuts, beautiful bangs, hair dyes, trimming sessions, and much more. 
Here is a list of equipment that helps a Barber enrich their grooming kit to satisfy their customers using their skills and required tools
Scissors
Scissors are the first and most important tool. They are like fundamental instrument or device that represents a Barber. 
What is a Barber without a scissor? Well, the deep silence of this question is enough to raise concerns.
Scissors are the defining gadgets, and the Barber kit is nothing without it.
Combs
The second fundamental tool of a Barber kit is combs or brushes. They both are the helping hand of a Barber in almost all areas like haircuts, trimming, styling, dying, or hair rebonding. 
Clippers
They are the small assisting tools to handle customer hair. They come in different colors, sizes, and shapes. The purpose of clippers is to hold or keep the hair at one place or a certain length during a haircut or any other action connected to hair activity.
Barber  Aprons
As the name suggests, Barber capes are clothing materials that Barbers wear during their session with any client. In simple words, it is the uniform that helps a Barber prevent direct contact with clients' clothing and hair.
It consists of pockets to hold the tools and all the necessary items. The purpose of this tool is to maintain a sanitary environment and keep all the required tools in your range.
Razors
Razors are the safe and sharp version of scissors. They are small in size, but different in appearance. They come in blade form, but the tool is pointed enough to cut and define beard lines. It consists of cutting edges but a smooth texture to remove face hair with ease and comfort.
Barber Cap
It is an essential tool to maintain safety, or ample hygiene at the salon. It prevents the direct contact of a Barbet hair from clients. 
All these tools are basic necessities or the key elements of Personalized Best Barber Kit For Beginners. Now the question is how to design the kit. Or what are the steps of designing barber kits?
Step By Step Guide To Design Personal Barber Kit
Here is a guide to designing a Barber kit, that can help you get started
Understand Your Needs
The first step of setting up a Barber kit is to define your niche according to your required equipment. If you are a hairstylist or an expert in haircuts, keep things accordingly. In other words, consider your specialties or services to make a to-do list of your instruments.
Collect the right tools
The second step is to choose high-quality gadgets for barber kits. Find out the best scissors, combs, or clippers that are both hygienic and durable. Also, make sure that they work properly or are sharp enough to save you time and energy. For this purpose visit trusted brands like Taichi to purchase reliable cutting tools.
Arrange Maintenance Supplies
The third step of designing a Barber kit is to consider maintenance supplies. They come in the form of blade guards, oils, disinfectants, and sharpening devices. They help in regular cleaning and longevity of tools. Also, you can use them to maintain the scissors, razors, and other tools for prolonged usage. There are sanitary supplies as well that disinfect all the instruments to ensure client safety.
Purchase Tool Organisers
Aprons and capes help in tool organization, but that does not mean they are enough. To create or design a professional barber kit, organization is the key. For this purpose, you can either purchase organizers or use carrying bags to set your tools. The purpose of organizing a barber kit is to help you find the right tool at the right time. You must take this thing into count while designing a Barber kit for yourself or for your customers, for easy access and comfort at the workplace.
Add Personal Touch To Your Kit
Most people don't pay attention to personalization, but trust me there is no other way. It helps you create your identity, or stand by your tools or accessories. Therefore, add your name, company logo, and designation to your Barber kit for a professional touch. You can also make it interesting by following a simple theme for all employees in the same color and design. It gives a personalization touch or increases customers' interest in your products.
Stay Updated
The last step of designing a Barber kit is updated equipment and advanced knowledge of devices. If you have both of them, there is nothing that can stop you from being successful. In other words, being a trend is like a blessing in disguise. It is an integral part of designing. So, whenever you update your tools, customers trust your brands or give you leverage among other brands. 
Conclusion
Designing a Best Personal Barber Kit is never an easy job. It is a complex process of different steps, and each one of them is equally important. But before you start, understand the different equipment, and their demand. Also, consider brand quality or contact our company for good options for your brand equity.