The Pros and Cons of Razor Cuts for Damage Hair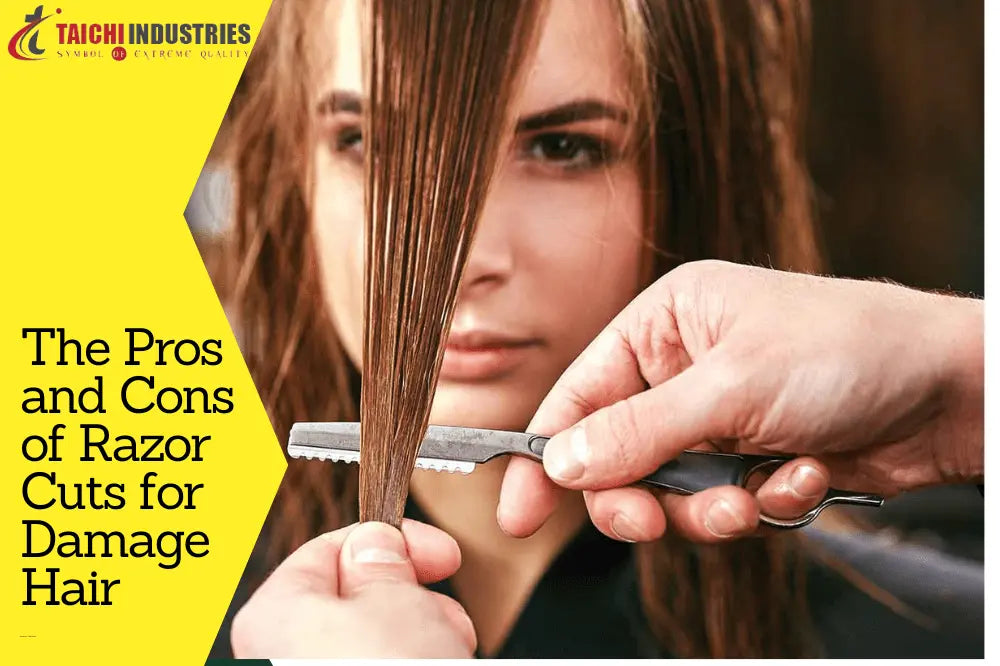 Do razor cuts damage hair? It can be a controversial topic. Some people love them, while others hate them. However, there are certain circumstances when a razor cut might be the right choice. It's easy to fall into the habit of using only scissors for hairstyling, but hairdressers have a variety of tools at their disposal, and the razor is one of them. In this post, I'll answer some common questions about razor cuts. So that you can learn more about them and how they can affect your hair.
What is a Razor Tool?
A razor is a tool that is often used to trim the ends of hair. Hairdressers use razors to cover split ends and loose hair. It improves the appearance of the hair. It also hides any mistakes they may have made. If you have thinning or thickening hair, a razor cut can enhance its texture. However, if you have thick, curly hair like me, shaving may make you doubt. Whether you actually have thick, wavy hair. Layering your hair can reduce the weight that pulls down your curls.
What Makes Razor Cut Unique?
Razor cuts are for their unique to create wispy and light hairstyles. They look healthy and feel weightless. Skilled stylists can achieve a soft and natural finish. It is without damage or split ends by using a sharp razor with expertise. This makes it an ideal choice for those who desire long and healthy hairstyles.
Razor Cutting Technique
To achieve a soft and large scissor-cut hairstyle, razor cutting is a common used method. However, it is important to ensure that the skilled stylist performs with the razor. It is not to allow someone to perform a razor cut on you for the first time as an accident. It may occur if the stylist is not confident and comfortable while using the razor. Given the sharpness of the blades, it is crucial to safety in this situation.
Science of Razor Cuts
Length of Hair
Keratin, a type of protein, comprises the hair shaft, which is visible and made of dead, keratinized cells.
Blade acuity:
To make a clean, accurate cut, the razor blade's strength is crucial. The amount of force needed to cut through hair is with a sharp blade. Make it less likely that someone will pull or strain.
Pace and stress:
It's crucial to apply the proper amount of force and keep the proper cutting rate. The skin may get irritated or injured from excessive pressure.
Irritation:
The skin's surface may come into contact with the razor blade, causing razor burn, itchiness, or redness. Proper lubrication can help reduce friction and irritation.
Microbial worries
Proper maintenance and cleaning can reduce the risk of skin infections caused by micro-cuts from shaving.
Pros of a Razor Cut
Razor cutting serves purposes beyond creating styles and textures.
This style works well for thicker, wavy hair. It's best to reduce layers and thin out hair.
Large strands will produce a more consistent impact on the entire head and a more sophisticated look.
Blunt cuts are best for fine hair because they distribute weight.
It gives the appearance of depth and longer hair.
Additionally, the ends should be to give them a hefty, chiseled look. While under anxiety, hide the ends.
Cons of Razor Cuts
Your hair may become more due to razor cuts, particularly for those with curly or coarse hair. The uneven ends of the razor can result in frizz and flyaway, creating a less smooth appearance.
Exacerbating existing issues could make fine or damaged hair appear even more brittle or damaged.
When hair is with scissors, it has more styling possibilities compared to hair. Razor-cut hair may limit some hairstyles.
It may be easier to see the rough surfaces. They need the barbershop for maintenance or switch to a new haircut style.
A razor is to cut hair by cutting it with a razor. While using this method, produce texture.
Final Words
If you want flexible hairstyling then forget, do razor cuts damage hair? If you have jagged and fluttery hair, consider a razor haircut. This technique is best suited for thick, coarse hair that is not curly and is by women. Although it can also be to men. It is an effective method, but some may feel uncomfortable with razor cuts. It is important to note that using a razor to its full potential requires knowledge and skill. Therefore, it is best to suggest it to those who have experience with this technique.
FAQs
Do Razor Cuts Work Well With Thick Hair?
Using a razor on thick, curly hair can lead to a frizzy appearance due to the harsh texture of the hair.
Is it better to use a razor on damp or dry hair?
When using a razor to cut hair, it's important to use wet hair instead of dry hair. If the hair is dry, the razor can create frizz at the ends, which can lead to split ends or breakage. It's crucial to ensure that the hair is moist before using a razor to trim it, rather than damp.
What kind of razor do hairdressers use?
To clarify, when we mention razor or razor cuts, we are not referring to clipper cuts. We mean the best haircutting shears for professionals. Also, we may not be talking about a straight razor that is to trim beards. Instead, hairdressers often use a feather razor for cutting hair. This type of razor has a protective guard that minimizes the risk of cuts.
Are razor cuts damaging to fine hair?
Proper executed razor cuts can add texture, thickness, and volume to fine hair. However, it's important to note that executed razor cuts can be damaging.
Is Curly Hair Good For A Razor Cut?
If you want to enhance your hair's curliness, avoid using a razor and instead opt for thinning the ends. To achieve the best possible curl, the hair should be weigh down at the ends. Sometimes, stylists remove too many layers of hair. It can create ledges and affect the final look. For the best results, let your hair air dry.