How Do You Store Jewelry When Traveling?
Posted by Taichi Industries LLC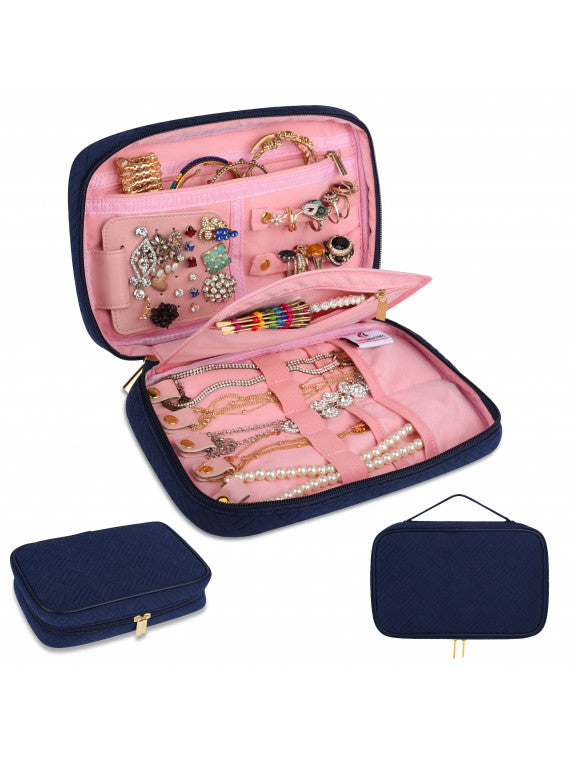 So, they can never think of losing it or getting it broken, even when traveling to the countryside or hill stations. But, on the other hand, traveling with little delicate necklaces, bracelets, and rings is a hell of a task. They easily get tangled, and it gets hard to separate them from each other.
They act like small burgers who love to wrestle and never leave each other until someone comes and separates them. The problem is not with tangling or separation, but the fear lies in the process of separation.
There is a chance that when we would separate them from each other, their delicate chains will break. And how someone on earth can bear the pain of losing their expensive gold Jewelry Items or getting them broken in front of them?
Being a girl is never easy for you because it is a significant loss at your end. Maybe you have to attend a special event by the end of your journey, and how can you let your favorite necklace get broken before attending the event?
When you are traveling, there are jumps and bumps, so the chance that they will hit each other and finally get tangled is high. Even if you keep them in tissue layers, they can still slip out of those layers and start wrestling with other jewelry items.
Now how can you protect them, and what are the ways by which you can prevent the loss of your expensive jewelry is an honest debate.  
When you travel, you have to make sure that there is no tangled necklace, no broken bracelet, and no missing earnings, and it is possible when you will pay attention to their storage. When we travel, we keep everything in their respective bags, and the same is the case with jewelry.
Taichi Industries LLC is one of the most famous industries, and they pay a lot of attention to this matter. Like every other essential item, they believe that the jewelry is kept in special Travel Jewelry Organizers for their safety and protection.
They are currently selling the best travel Jewelry Organizers so that people can use them to have safe Jewelry Travel. You can never doubt them on their credibility because they created these
boxes, keeping customers' discomforts and problems in mind.
They have been working for a year, and now people know them by their work and name. They provide one of the best Jewelry Organizers to their customers, which is the reason behind their success. The other thing that makes them stand with dignity is their customer dealing.
How to Store Your Jewelry in Jewelry Organizers?
Instead of putting your jewelry in layers of tissue, you should keep them safe in a Jewelry Organizer. The specially designed Jewelry Organizers for Traveling by tech industries are the best option available in the market.
You can buy them to store your jewelry in the safest place while traveling. There are specific tips that you can use for storing your jewelry, and they include
Keep Tissues:
So, when you are putting your jewelry in the Jewelry Organizer, it is essential to keep every item protected from others, even when you are putting them in separate portions of the box.
For this purpose, you can wrap the necklaces, bracelets, earrings, and other items in tissues. Then, when you cover each of them in separate tissues, they would not get tangled no matter how many high jumps and bumps they face while traveling to the hill stations.
Use Jewelry Pouches for Necklaces:
These punches are pieces of fabric that are turned into a circular shape. The upper part of the circle is tied with the knot, and you can use this knot to open and close it. The pouch is easy to carry, and it can fix at any place in your bag.
It is the best option for keeping necklaces because they are long and heavy and can easily get tangled with other jewelry items. It is better to keep them separate and preferably in the jewelry pouches for safety and protection.
Use Pill Case for Rings:
Rings are small, and they can easily get lost in significant suitcases. So, you cannot take the risk of putting them inside your bags. Instead, the better option is to use a pill case for it.
The pill case is a small box with separate boxes used for keeping tablets. In addition, you can utilize the pill case for keeping your rings and small earrings as they can easily adjust in them. In this way, you would not lose them and can catch on to them anytime.